After 41 years of marriage, it was finally time for Georgetown, Texas, couple Karen Sams and her husband, David, to travel out West. The couple looked forward to their trip of a lifetime – Yellowstone National Park, Jackson Hole, and Little Bighorn Battlefield National Monument.
But Karen received a call that, quite literally, stopped her in her tracks.
She knew she heard "breast cancer," but she didn't know what would come next. Her faith would be the stronghold that helped her navigate the unknown.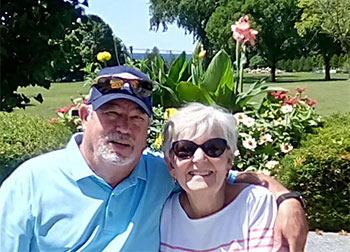 A different result
Karen and David appreciated the slower pace and friendly community in Sun City, a retirement community amid the rolling hills of Georgetown. They moved from the Georgetown home where they raised their children to Sun City in 2015, and both retired a year later.
"Our old home had a huge yard for the kids," said Karen, laughing. "For just the two of us, we decided we didn't need all that yardwork."
Enjoying retirement – both bowling, David golfing – Karen visited her physician each year for a routine mammogram. After examining results from her annual mammogram in October 2020, her physician told her "it's probably okay," and asked her to return for a follow-up in six months.
Dutifully, Karen came in for the follow-up mammogram. This time, the results were abnormal, and a biopsy was ordered.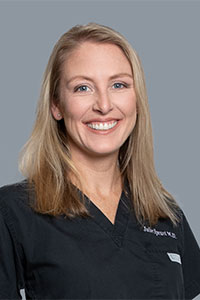 "Karen's case demonstrates the benefits of screenings and mammograms as the disease was detected before she had any symptoms, and before the cancer was able to spread to other parts of her body," said Heather King, M.D., FACS, who operates with Julie M. Sprunt, M.D., FACS, at Texas Breast Specialists–Austin.
Karen's biopsy took place in May 2021 right before their big trip. She insisted they go on the trip – this had been David's dream vacation – thinking they'd deal with the biopsy results afterward.
Prioritizing her health
A few days into the trip, in the middle of the Utah desert, Karen got the call. "You're never prepared," she recalled. "You never want to hear those words – your stomach just sinks to the floor."
Karen was diagnosed with ductal carcinoma in situ (DCIS), which originates in the breast's milk ducts. DCIS is the precursor to invasive cancer.
"You're always in shock to hear 'cancer,'" said Karen. "You don't know how far it's gone. You don't know how far it's spread."
Though Karen thought about finishing the trip, David was adamant that they return home and see a doctor right away. "Your health is more important," David told her.
Back in Texas, Karen spoke with an anesthesiologist and family friend. She asked her, "if you received this diagnosis, who would you go to?" Her friend recommended Drs. King and Sprunt.
Dr. King recommended breast conservation surgery, or a lumpectomy, followed by radiation therapy. The surgery would remove her tumor and radiation treatment would prevent future cancer from returning.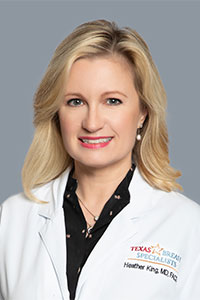 "In Karen's case, we performed a lumpectomy and combined that with a breast reduction to remove the precancerous lesion," added Dr. King. "Karen had previously been interested in a breast reduction and now was able to do both operations at one time."
This surgical technique, known as Level II Oncoplastic Lumpectomy, is a unique approach to a partial mastectomy that also uses plastic surgery principles to provide the best surgical outcome.
In July 2021, Dr. King performed surgery on Karen's left breast to remove the tumor and combined this operation with a breast reduction. Dr. Sprunt simultaneously operated on the right breast so that both breasts would appear similar in size and shape.
One day at a time
At first, Karen kept the news to herself and her family. "I didn't know which way it was going to go. I'd rather tell people when I knew more details and there was something we could do," she explained.
Once she knew her treatment plan, she turned to her church and prayer group. In addition to her family, her faith gave her strength. "I firmly believe that helps – everyone praying for each other," said Karen.
In August, Karen started radiation treatment, a 20-day regimen. Though tired due to the treatment, she has enjoyed the friendships she's built with the Texas Oncology team. She sees the same nurses each time she visits, who are "just as nice and kind as they can be," and Drs. King and Sprunt were "excellent."
She also says she has a good feeling about her outlook. "I've seen a lot happen around me. I feel very blessed because it could've been so much worse."
But her original mammogram still stands out in her mind. If she were to do it again, she wouldn't rely on "probably okay" and would go straight for the biopsy, rather than waiting six months for a follow-up.
"To anyone on the fence, get the biopsy or do the extra test," added Karen. "Who knows, it might be nothing but at least you'd be sure. If it is something, then maybe you've caught it early."
Genetic testing also helped ease Karen's mind. She underwent genetic testing to make sure this type of cancer wasn't hereditary and that it wouldn't be passed on to her daughter. The test results came back negative.
"Based on our discussion about Karen's diagnosis and her long-term goals, Dr. Sprunt and I were able to provide her with the best overall surgery to cure her disease and provide the best aesthetic outcome for the breast reduction that she had been researching prior to her diagnosis," said Dr. King.
Following her surgery, no malignancies were found in Karen's tissue, aside from the tumor that was removed. Now she's even line dancing each week, while David continues to bowl and golf.
"Every morning I wake up, I thank God for this day," said Karen. "The thought, 'What if it comes back? Has it spread somewhere else?' You don't know, but you just go on."
Karen looks forward to "redoing" the dream trip out West and even visiting her niece in Ireland. In the meantime, she conquers the unknown through prayer and by taking it one day at a time.
In Texas in 2021, more than 19,000 new cases of female and male breast cancer are expected. For more information about breast cancer prevention, detection, and treatment, visit TexasOncology.com.