On a cliffside in Sol y Mar, El Salvador, sits a newly acquired property with Mike Downey's name on it. Turquoise waters and world-class surf spots lured Mike to Central America years ago, and finding this beachside enclave on El Salvador's west coast was a real gem.
"It's a hike to get down to the beach, but you can't beat the expansive, panoramic views of the Pacific Ocean and close proximity to some of the best surf breaks you'll find anywhere," said Mike, who at 65 years old catches waves with the best of them.
He's a world away from his home in Austin, where in 2018 Mike was diagnosed with muscle invasive bladder cancer. While it may not be apparent to those who don't know him, especially when he's on his surfboard or running, Mike's cancer journey is still very much a part of his daily life.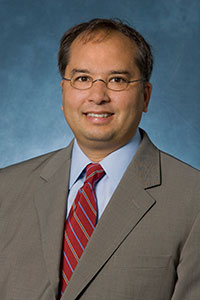 "Mike is helping us cure cancer," said James Uyeki, M.D., medical oncologist and hematologist at Texas Oncology–South Austin, referencing Mike's participation in a clinical trial.
Standard treatment for muscle invasive bladder cancer is chemotherapy followed by surgery to remove the bladder. As part of a clinical trial, Mike received chemotherapy in combination with immunotherapy prior to his surgery.
Immunotherapy is an advanced form of targeted cancer therapy that boosts the body's own immune system and defense mechanisms to fight cancer at the cellular level. Unlike traditional cancer treatments that target cells in tumors, immunotherapy accelerates the immune system's ability to attack cancer cells to stop or slow their growth or limit the cancer's ability to spread.
"After Mike's surgery to have his bladder removed there was no evidence of cancer, which was a very good outcome. After surgery, he received additional immunotherapy with the goal of maintaining his immune system's active engagement to find and fight any cancer cells that may have left the bladder area," said Dr. Uyeki.
Bracing for a sea change
At a glance, Mike's treatment may seem relatively straightforward, but it was fraught with setbacks.
"I had complications. I had several bladder infections, including one that turned into a kidney infection before moving into my bloodstream. There were multiple hospital stays, and I think my daughter stayed by my side through more emergency room all-nighters than she can count," Mike said, adding that in addition to his family, Dr. Uyeki has been one of the biggest blessings in his life.
"I was in the hospital right before I was supposed to begin treatment. Dr. Uyeki took control of the situation and had my chemotherapy port put in while I was there so I was ready to begin treatment swiftly upon being released from the hospital. Other times in the hospital, Dr. Uyeki would randomly pop in, one time at 9:30 p.m. on a Friday, just to see how I was doing. I felt from the beginning that he and his team were very invested in my care," said Mike.
Cancer treatment is hard, even for people in good health and strong physical shape, Mike said, noting that he was always impressed by how well-planned his visits were to Texas Oncology–South Austin. Dr. Uyeki is equally as grateful for Mike and his participation in a clinical trial.
"Most studies estimate that about 5% of patients with cancer enroll in clinical trials. If we were to increase the number of patients enrolling from one in 20 to one in 10, the rate at which we would be able to bring the amazing advances in science to our patients would be exponential. While Mike is a hero for what he does for society, enrolling in a clinical trial was also great treatment for him," said Dr. Uyeki.
Getting back on the board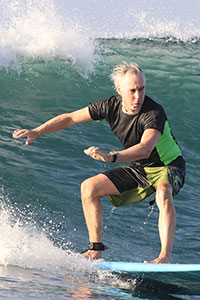 Today, Mike sees Dr. Uyeki every three months for check-ins and blood work. He has slowly gained his strength back and is happy to be making big plans for his property in Sol y Mar.
Reflecting on his cancer journey, Mike said one of the best things people with cancer can do is surround themselves with positive people and have a good team – personally and medically.
"Not everyone is blessed with the support of friends and family, but physicians and their teams are there to provide support too. People should know they're not alone – especially at Texas Oncology, such a compassionate and brilliant group of oncology professionals that we're blessed to have in Austin," Mike said.
He acknowledged that his cancer diagnosis has changed him. His life will never be the same, but he's looking forward to the future, fresh sea air, catching a few waves, an ocean view as beautiful as they come, and a network of support back home in Austin. "In five years, I'll be thrilled to be doing just what I'm doing right now," he said.
Texas Oncology is a leader in groundbreaking cancer research and clinical trials in Texas, paving the way for new breakthroughs in cancer care and helping develop more than 100 FDA-approved cancer-fighting treatments. For more information, visit www.TexasOncology.com.