Tony Laudadio is a giver. He's also a connector of people, resources, and communities. Tony is a husband and father to three little girls, a brain tumor and renal cell carcinoma survivor, and to fellow cancer survivors and their families, Tony is hope.
Tony's journey began in July 2013 when he was diagnosed with renal cell carcinoma at 29 years old. A second diagnosis came in September 2015 when Tony learned he had a second primary cancer, grade 3 oligodendroglioma brain cancer.
Getting to where he is today has been a challenge, but Tony will tell you his passion for helping others along the way was made stronger thanks in large part to the support he found in his family, friends, and community.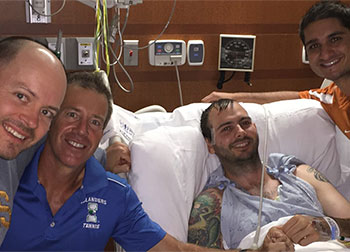 Courage to ask for help
Tony's medical history is only half of his story.
Shortly after his initial diagnosis of renal cell carcinoma, which included a large tumor that Tony describes as the size of a butternut squash, his right kidney was removed as part of his treatment. It was grueling on his family. During this time, his wife was eight months pregnant with their second daughter and their beloved family dog passed away. Tony's world was caving in on him, and it was happening all at once.
"There are emotional, physical, and financial burdens that come with having cancer. For me and my wife, our story could have been very different had we not made the decision to ask for help. So many people who have cancer are afraid to ask for help or try to deal with it themselves – but we needed support," said Tony.
In addition to family and friends, Tony and Carrie found support during this treatment through several local Austin-area foundations.
"I felt like I was getting back on my feet when I suffered two seizures and was diagnosed with a second, completely unrelated cancer: grade 3 oligodendroglioma brain cancer. Carrie was pregnant with our third daughter at the time. I remember thinking, 'This is crazy, and I can't believe it's happening, but I refuse to live in denial. I'm going to fight this,'" said Tony.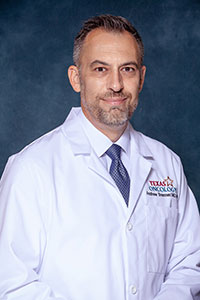 Under the care of Andrew Brenner, M.D., Ph.D., neuro oncologist at Texas Oncology–Austin Brain Tumor Center, Tony prepared for treatment that included an awake craniotomy, a highly specialized procedure that took nearly 10 hours to complete. Dr. Brenner and his team worked seamlessly with the team performing the surgery at a nearby hospital. Following surgery, Tony was hospitalized for more than a month undergoing brain radiation.
"Tony's treatment was intense – involving brain surgery, six weeks of radiation therapy from Thanksgiving straight through Christmas, and 11 months of chemotherapy which caused his blood counts to drop," said. Dr. Brenner. "He marched through that and is doing well."
"Dr. Brenner and the team at Texas Oncology are wonderful and have been throughout this entire process. I rave about them all the time. Everyone there is just phenomenal, from the schedulers to the nurses, they know me and my family by name. I was in medical sales before I was diagnosed with cancer. I know the standard, and Texas Oncology exceeds it. Their care is incredible, and Dr. Brenner always gives so much of his time and attention," said Tony.
In total, his treatment plan occurred over the course of 19 months. Tony received radiation therapy and chemotherapy and utilized services at Texas Oncology that included social workers and genetic testing.
Today, Tony's cancer is stable. He sees his team at Texas Oncology for regular check-ins and keeps in close contact with his care team if he starts to notice signs or symptoms of concern.
Commitment to giving back
Tony and Carrie were so moved by the support they received during his treatment that they wanted to find a way to give back. In 2018, they started the Tony Foundation, a non-profit in Central Texas that provides financial assistance to families affected by cancer.
As of August 2021, Tony Foundation has provided support to 50 cancer patients and their families across Texas
"On my worst days, I think about some of the families we have met through our foundation. Some of them are struggling so much. Until you or your family go through cancer it's nearly unimaginable that it could happen to you. That's why Carrie and I have been so compelled to help others in the ways that we received support," said Tony.
"To me, Tony represents the spirit of survivorship that is so important and the reason we love to come to work every day. Our patients, like Tony, provide us motivation to cure brain tumors," said Dr. Brenner.
Ultimately, Tony's goal is to leave a positive mark and to live life to the fullest.
"This sounds so cliché, but I've learned to live every day like it's my last. Having cancer teaches you how fragile life is. We spend a lot of time suffering, but if we're living and we're still here that's something to be positive about. So, don't ever take a single day for granted. There's always a reason to keep living and keep fighting – and it's important that we do," said Tony.
In the fight against cancer, there's a place for everyone. Texas Oncology surrounds patients and their loved ones with a warm community and support resources to make coping with cancer a little easier, working with numerous local non-profit organizations and support programs to ensure no one fights cancer alone. For more information, visit TexasOncology.com.