For Linda Money, family and faith are everything. Being a wife to a loving husband and mother to two daughters and a son are roles she doesn't take lightly, but playing Mimi to four grandsons is where Linda really shines. When she was diagnosed with stage III ovarian cancer, her thoughts immediately shifted to them – how would cancer treatment affect her ability to be active with her grandsons?
Linda's path from symptoms to diagnosis was not straight and narrow, but rather winding with twists and turns along the way. In 2017, she began experiencing symptoms she now knows are typical of ovarian cancer. Bloating, indigestion, weight gain in her mid-section, difficulty with digestion and constipation – all the usual suspects were there.
Following her gut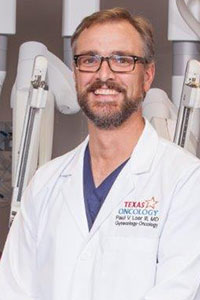 "Something told me there was a reason to be concerned. I just knew something wasn't right. I went to see my gynecologist and my test results were normal. I could have stopped there, but I listened to my instincts," said Linda, who at the time of diagnosis was in her mid-50s. A computed tomography (CT) scan showed a tumor about the size of a grapefruit near Linda's ovaries, and blood work showed her CA-125 count, which measures proteins in blood, was exceptionally high – common among women with ovarian cancer.
Linda was referred to Paul Loar III, M.D., FACOG, gynecologic oncologist at Texas Oncology–Austin North Suite 300, who performed a laparoscopic surgery for high suspicion of cancer.
"I was diagnosed with stage III ovarian cancer on May 4, 2017. I'll never forget that date. May 4 is my oldest daughter's birthday," said Linda. In that moment, she made the decision to face her cancer with positivity and fierce faith. She wouldn't become a victim, no matter how grim the outlook. With her family and Dr. Loar at her side, Linda prepared to fight.
Family matters
"I've loved Dr. Loar from the start. As grim as my prognosis was in the beginning, he was always encouraging. And, he and his care team recommended I have genetic testing," said Linda.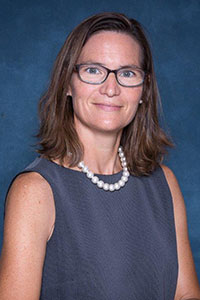 Some types of ovarian cancer indicate inherited gene mutations passed down among families. Genetic risk and evaluation analyzes DNA to detect specific, inheritable, disease-related gene mutations that may increase risk of certain cancers, like breast and ovarian cancer. Linda's results came back positive for the BRCA-1 mutation. BRCA mutations are inherited from a parent and passed down from generation to generation. Those with BRCA mutations, like Linda, have a 50% chance of passing the mutation to each of their children. The results prompted Linda's two daughters and her sister to also undergo genetic risk evaluation, which revealed both her oldest daughter and sister as positive for BRCA-1.
Because Linda was BRCA-1 positive, which increases her risk for breast cancer, she was also treated by Moya Griffin, M.D., FACS, a breast surgical oncologist with Texas Breast Specialists–Austin North. Part of her treatment plan includes high-risk screening through a breast exam every six months, alternating between mammograms and MRIs to regularly ensure imaging is gathered.
"What makes Linda so special is her positive outlook. She could have a 'woe is me' attitude, but she doesn't. She lives such a positive life. She also has a very supportive, loving husband who is always by her side," said Dr. Griffin.
An armor of love and support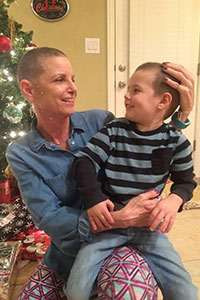 Linda's treatment for ovarian cancer started with three cycles of chemotherapy, intended to shrink the size of her tumor before surgery. Her body responded well. She underwent surgery to remove as much of the tumor as possible along with a partial bowel resection followed by three cycles of postoperative chemotherapy.
"My cancer journey has been a very emotional time for my family, but they are strong for me. My husband, David, and I were preparing to retire before I got diagnosed, so this changed everything. He continues to take complete care of me, and goes to every appointment, every infusion," Linda said, adding that she also has tremendous support from Dr. Loar, Dr. Griffin, and her care team at Texas Oncology.
"Linda is always smiling – she's one of my most lovely patients. She rarely seems stressed or anxious about her diagnosis or treatment," said Dr. Loar, who has treated Linda since her diagnosis.
In October 2017, Linda showed no evidence of cancer and entered remission; however, her cancer recurred in September 2018. She completed six cycles of chemotherapy and again entered remission in February 2019. Linda has since remained on maintenance therapy with no evidence of recurrence thus far. Dr. Loar said that while there is always a chance of recurrence, Linda is handling ongoing therapy well.
"Statistically, most patients have recurred by now, but Linda has done extremely well with maintenance therapy. I look forward to my visits with Linda and her husband. He has been to every single visit. They're a wonderful couple, and I truly enjoy spending time with them," said Dr. Loar.
Linda credits Dr. Loar and Texas Oncology for helping her beat the odds.
"Everyone in the office is friendly and warm. They're always accommodating – even the financial counselors made sure all our bases and possibilities were covered. If they hadn't encouraged genetic testing, my daughter and sister would not have the foresight to proactively take care of their health, too," said Linda.
Today, Linda is focused on staying positive. And she hopes others with cancer will do the same. She said it's not always easy, but it's vital – especially for her grandsons, who she refers to as "my heart."
Her advice to others is simple but powerful: pay attention to what your body is telling you – the earlier your symptoms are addressed, the more positive impact it can have on your long-term health.
Ovarian cancer is the leading cause of gynecologic cancer deaths. A woman's lifetime risk of developing ovarian cancer is 1 in 78. For more information on gynecologic cancer and genetic testing and evaluation, visit www.TexasOncology.com.