If there's one thing people say about Karen Clements, it's that her smile can light up a room. Words like grace, joy, and composure resound upon the mention of her name; but there's one descriptor that sticks out: resilient.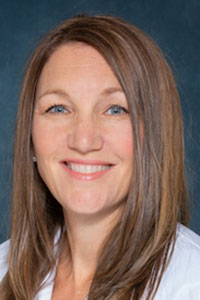 "Karen is such a bright spot in my clinic. Despite the fact that her breast cancer story was complicated with many unexpected twists and turns, Karen took it all with a smile. I am in awe of her strength, courage, and ability to bring joy to others during her own serious health challenges," said Allison Gorrebeeck, M.D., medical oncologist at Texas Oncology–Austin North Suite 300.
The breast cancer story Dr. Gorrebeeck referenced began in April 2019 when Karen was called back for a sonogram after a spot was found on her mammogram. That sonogram led to a biopsy, and on May 15, 2019, Karen got the call no one wants. She had cancer.
A cancer diagnosis can be devastating, but she was also facing other challenges in her family. Her mother was also diagnosed with breast cancer just two months prior. What's more, her college-bound son was in a horrific car accident. She received the call confirming she had breast cancer while in a hospital waiting room as he underwent surgery.
"I have dense breast tissue, making it harder to see breast problems. For years I would get a mammogram followed by an MRI. Breast cancer has been found in almost every female in my family. Knowing this, I did everything I could to make sure that if I got breast cancer, we would find it early," said Karen, age 55.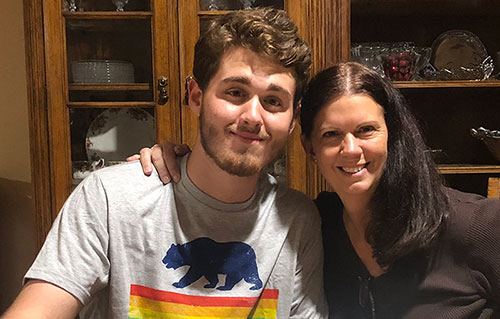 One day at a time
Two weeks after her diagnosis, Karen had an oncoplastic lumpectomy, a procedure in which the scar from the surgery is hidden and any differences in the breast as a result of the surgery are not visible. The pathology report showed the cancer had spread to her lymph nodes. Karen's breast surgeon, Caroline Coombs-Skiles, M.D., FACS, of Texas Breast Specialists–Austin Downtown, believed more was going on than the pathology report revealed.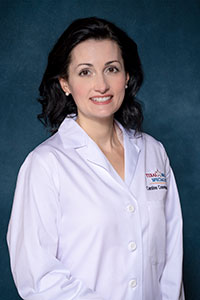 "Karen's cancer diagnosis and subsequent treatments were not completely straightforward. She showed cancer in the lymph nodes, which was unexpected, but she took the news with grace," said Dr. Coombs-Skiles, noting that additional tests revealed a second cancer that had not shown up on Karen's previous MRI.
"I feel incredibly lucky to have Dr. Coombs-Skiles as my breast surgeon. Had she not ordered the additional MRI, the cancer would have continued to grow. She saved my life by going the extra step and looking at why my cancer had spread to my lymph nodes. I will never forget that she looked at me as a person, not just another patient, and wanted to find answers. I knew then I was in good hands. My final diagnosis was stage II multicentric breast cancer," said Karen, who went on to have a mastectomy followed by radiation therapy with radiation oncologist Carl E. Nuesch, M.D., FACRO, FACR, of Texas Oncology–Austin North Radiation Oncology and Austin Central.
"From the beginning, Karen took her cancer diagnosis as an adventure, and she completed her radiation treatments well with tolerable side effects. Her smile and positive mindset were definite assets through her journey to health," said Dr. Nuesch.
Comprehensive care, seamless coordination
Karen said the coordination of care between Drs. Gorrebeeck, Coombs-Skiles, and Nuesch was carefully planned to ensure her appointments at Texas Oncology were as easy and accommodating as possible.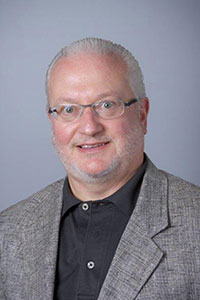 "Dr. Nuesch worked with me so I could have my radiation appointment during my lunch hour, which helped me continue to work. When I was with Dr. Gorrebeeck, she had already connected with Dr. Coombs-Skiles to discuss my plan prior to my arrival to my appointment. They took genuine interest in my cancer journey, and in getting me well, and the entire staff at Texas Oncology ensured I could focus on healing without worry," Karen said, noting that she also took advantage of resources made available at Texas Oncology such as counseling.
"I had anxiety, I couldn't sleep, and I needed to be there for my son as well as my mother, who was also going through treatment. Talking with a counselor really helped me process things. It is amazing to me how Texas Oncology made it possible to receive emotional healing as well as physical treatment. You're scared when you find out you have cancer," Karen said. "They become your friends and family."
Focused on the future
One year to the day she was diagnosed with breast cancer, Karen had deep inferior epigastric perforator (DIEP) flap reconstruction surgery performed by local breast reconstruction surgeon Dr. Christine Fisher.
"The breast cancer journey is hard. You have so many appointments and tests. Having a team of doctors and their wonderful staff work together to care for me made all the difference. Their support helped me to keep smiling through my struggles," Karen said, noting she found a community of friends through breast cancer support groups.
"I had no idea the depth of support that surrounded me. I never needed it before. My best friend told her boss that I had cancer and that she would be with me at my appointments, and she was there. She went to every procedure. I found a world of support from friends and strangers," Karen said.
Cancer is just one chapter in her family's story – it's not the whole story. She and her family have big plans for the future. Most importantly, after a long and challenging recovery from his accident, Karen's son will start his freshman year of college at The University of Texas at Austin next fall.
"Through adversity we find our strength. I plan to live a very long life. I want to see my son graduate from college, and get married, and one day have a family of his own. My family has a lot to look forward to. I'm a happy person, and cancer tried to steal my happiness – it didn't win."
In the U.S., one in eight women will be diagnosed with invasive breast cancer during her lifetime. Texas ranks third in the U.S. in estimated new cases and second in expected cancer deaths due to breast cancer. For more information about breast cancer prevention, early detection, and treatment, visit TexasOncology.com.