There's a bench in Pam Cooper's backyard with a view as far as the eye can see. It's a quiet place where she often goes to close her eyes and feel the wind brush against her cheeks. Other times, after a long day, she and her husband sit there to watch the sun get smaller as daylight fades.
As an operating room nurse for a busy local hospital, finding refuge has always been a necessity for self-described "lifelong country girl" Pam. This deep-seeded need to seek peace and sanctuary took on new meaning following her breast cancer diagnosis on Oct. 9, 2019. Over the past year, when she has felt as though she couldn't bear another cancer treatment or anxiously await another test result – when life begins to feel heavy – Pam has gone to the bench to simply sit.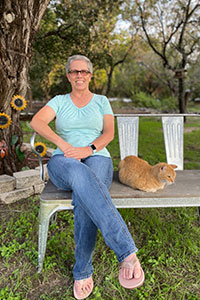 'Why not me?'
When it came to her health, Pam was doing everything right. She said the most interesting part of her story is how her cancer was diagnosed.
"My best friend and I have this tradition of getting our annual mammograms and going to lunch afterward – we make a day of it every February. My mammogram in February 2019 came back normal, but I have always done regular breast self-exams, too. Later in September, I felt a lump," said Pam.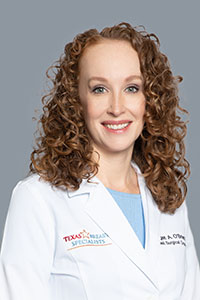 She scheduled an appointment with Bridget O'Brien, D.O., FACS, FSSO, breast surgical oncologist at Texas Breast Specialists–Cedar Park and Georgetown, who ordered a diagnostic mammogram and biopsy that ultimately led to a stage I breast cancer diagnosis.
"Pam is very insightful and in tune with her body and health. She has an ability to take the information provided to her and use it to become empowered in making educated decisions about her own health. She has a positive personality, and her energy transfers to everyone around her," said Dr. O'Brien.
Having lost both of her parents to cancer, Pam already knew she could be at risk of developing it in her lifetime, too: "When I got the news, it hit me that thousands of women go through a breast cancer diagnosis and treatment every year. Rather than thinking 'why me?' I thought, 'why not me?'"
Springing into action
Based on her family's history of cancer, Dr. O'Brien recommended genetic testing to better understand Pam's cancer risk. The test identified a genetic mutation that could put Pam at risk for developing future breast and other cancer types.
Dr. O'Brien, Pam's medical oncologist, Courtney Yau, M.D., of Texas Oncology–Georgetown and Harker Heights, and their teams collaborated to create a holistic treatment plan for Pam. Given Pam's diagnosis of a genetic mutation placing her at risk for a subsequent breast cancer, Dr. O'Brien performed a bilateral mastectomy and sentinel lymph node biopsy. Local breast reconstruction surgeon Dr. John Eggleston performed an immediate deep inferior epigastric perforator (DIEP) flap reconstruction, a surgical procedure that utilizes tissue from another part of the body to reconstruct the breast, just before Thanksgiving, and Pam began chemotherapy shortly thereafter.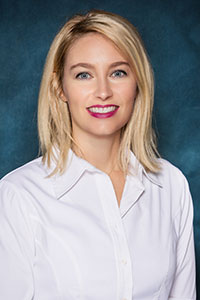 "Pam faced her cancer head-on with confidence, knowing what had to be done. Although she was tired and experienced treatment-related side effects, she always came in with a smile and a positive attitude. I truly think this helped her get through treatment," said Dr. Yau.
For Pam, the support she received at Texas Oncology made smiling through the challenges possible.
"The people at Texas Oncology are those people that are going to step up and just love you through it," Pam said. "During my visits, I felt completely overloaded with information. Yet before it was all over, Dr. Yau looked at me and said, 'I know this is a lot of information, but we will walk you through this step by step. You don't have to worry about anything.' They see a lot of patients at Texas Oncology, but when I'm there I feel like I'm the only one."
The power of being proactive
Drs. Yau and O'Brien credit Pam with being proactive about her health and, in turn, catching her cancer at an early stage. Pam says her experience has encouraged her to continue advocating for breast self-exams.
"When you first start doing self-exams it can be awkward; but the more you do it, the more you learn about your breast tissue and what is normal for you. That's how I knew immediately the lump I felt shouldn't be there. It was in an area that otherwise I would have never known. The more you know what your body looks and feels like, the easier breast self-exams become. It's something all women can do to advocate for their health," said Pam, who will complete her breast cancer treatment in December 2020.
Encouraging other women is important, and that's exactly what Pam intends to do.
"My life is great, all things considered. I'm very thankful to be where I am in my cancer journey. I have a supportive husband, a wonderful 23-year-old son, and a network of people who care about me. If my voice can empower and educate others, let it do that," she said. "You don't understand it until you go through it. There's an unspoken bond among those with cancer. It's not a fun thing to have in common with someone, but you can connect with people you don't even know."
Cancer is an emotional thing, Pam said. At the end of the day, when you think you can't do it anymore, sometimes you just find a place to take refuge – you take a moment to sit.
Breast cancer is the second-deadliest cancer among American women. An estimated 18,478 new cases of female and male breast cancer are expected in Texas in 2020, with 3,288 deaths. For more information about breast cancer prevention, early detection, and treatment, visit TexasOncology.com.